---
Clint Josey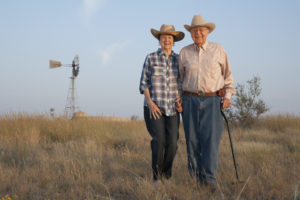 Clint Josey was Chairman of the Board of Directors for the Dixon Water Foundation from 2005 to 2017. Clint was born in Fort Worth, TX and moved to Dallas at 8 years old. He graduated from Texas Country Day School, which is now St. Marks School. After graduation he attended Massachusetts Institute of Technology, The United States Naval Academy, The University of Texas and Southern Methodist University. Clint has a degree in Petroleum Engineering and a Masters degree in Mathematics. He served 3 years in the US Navy, and he worked as a Petroleum Engineer in the oil fields.
Clint purchased the Leo Ranch in 1974 and has practiced Holistic Management principles since attending an Allan Savory course in 1983. Mr. Josey was also Chairman of the Board for the Discovery Foundation. He is very proud of his 6 great grandchildren.

Kathy Smyth

Kathy Smyth, Vice-Chairman and Vice President, has had a lifelong passion for wildlife and conservation, and believes in conservation through good land management. She has been involved with non-profit organizations with conservation missions. She has served on the board of the Galveston Bay Foundation, the Bayou Preservation Association, The Wildlife Center of Texas, the Texas Land Trust Council, the Bayou Land Conservancy, the Houston SPCA, and is currently on the advisory board of The Nature Conservancy and Houston Audubon. She worked for The Nature Conservancy from 1999 until 2004.
Mrs. Smyth grew up in North Carolina, and developed an appreciation of good land stewardship from spending summers in the country with her grandmother. She has a Master of Science from the University of North Carolina. She lives with her husband David in Houston and is the grandmother of twins.

Walt Davis

Walt Davis is a fifth-generation rancher with interests in southeast Oklahoma and west Texas. He grew up on the Texas ranch working with cattle, sheep and goats. He attended Texas A&M College where he completed a BS degree in animal husbandry and eighteen months graduate work in animal breeding. In 1962 he took over as manager of the Oklahoma property and established a high tech operation using the "best" practices of soil fertilization, weed control, animal health and animal nutrition supplementation as recommended by the land grant colleges. After seeing the effects of this regime on the land, his finances and himself, he spent the years following 1974 developing and teaching a program of ranch management that is profitable, sustainable and enjoyable. Walt is a past president of both HRM of Texas and HRM of Oklahoma and works, since 1986, as a management consultant with clients in both arid and humid regions. He writes regular columns for the Farm Progress family of magazines and other publications. He has published two books: How to Not Go Broke Ranching and A Gathering At Oak Creek and has three others under way. You can learn more about his work at www.waltdavisranch.com

Leslie Rauscher

Leslie Rauscher has been with the Dixon Water Foundation Board of Directors since December 2007. She has over fourteen years of environmental expertise working with municipalities, state and federal agencies in Texas, Oklahoma and Louisiana on water quality, resource management and public outreach programs. Mrs. Rauscher is currently administering federal water quality programs.
In her previous work as a senior environment and development planner for the North Central Texas Council of Governments, she developed various public education and outreach programs ranging from storm water pollution prevention, water conservation and a host of other environmental topics. She was instrumental in developing the Texas SmartScape water conservation program for the DFW area, which was recognized with numerous awards including the Texas Environmental Excellence Award and the American Water Works Association Watermark.
Mrs. Rauscher is thrilled to continue volunteering her outreach and communication skills to serve the mission of the Foundation. As the sole vegetarian on the Board, she believes in the benefits of a planned grazing approach to manage watersheds, ensure environmental sustainability, and promote healthy food resources. A graduate of Texas A&M University at College Station, Mrs. Rauscher resides with her family in Dallas.
Laura Whiting


Serving on the Board of Directors since 2005, Laura L. Whiting is proud to be associated with the Dixon Water Foundation's forward-thinking ranchers and conservationists.
Ms. Whiting is a partner at Gardere Wynne Sewell LLP, an Am Law 200 firm and one of the Southwest's largest full-service law firms. She focuses her practice on environmental permitting, compliance and enforcement defense for heavily-regulated industry and land developers. She also has extensive experience with incident investigations, regulatory advocacy, and product stewardship requirements under state and federal environmental laws, as well as due diligence and cost-effective remediation.
Prior to joining Gardere in 2016, Ms. Whiting served as Senior Counsel for Occidental Chemical Corporation, a leading manufacturer of chlorine, caustic, vinyl chloride monomer, PVC resins, and silicates. For over 10 years, she provided leadership and support for business functions critical to the safe production of useful chemical products. She started her legal career in the oil & gas practice at Gardere & Wynne (now Gardere Wynne Sewell LLP), when oil was $10 a barrel, and transitioned to an environmental practice, serving as Assistant Regional Counsel with the U.S. Environmental Protection Agency, an associate at Winstead, Sechrest & Minick, a lawyer-on- loan for American Airlines, and a partner at Hunton & Williams, formerly Worsham, Forsythe & Wooldridge.
Through years of practice at the intersection of industry and the environment, Ms. Whiting firmly believes that our future depends on marshaling the benefits of science, technology and the unwavering commitment to the protection of our natural resources. She is a Texas State Trustee for the Nature Conservancy, and previously served as Chairman of the Environmental Health Commission for the City of Dallas, as Chairman of the Dallas Nature Center, now Audubon's Cedar Ridge Preserve, and in various capacities in professional organizations. Ms. Whiting earned a BA from the University of Texas at Austin and a law degree from the University of Texas School of Law. She and her husband Simon have two sons, George, in college, and Harry, in high school.
Robert J. Potts

Robert J. Potts is President and CEO of the Dixon Water Foundation. From 2004 through the summer of 2007, Potts was the General Manager of the Edwards Aquifer Authority, a regional regulatory agency created by the Texas Legislature to manage, enhance, and protect the Edwards Aquifer which spans eight counties in south central Texas, serves as the primary water source for more than one and a half million people, and supports numerous springs in the area, including the two largest springs west of the Mississippi River.
From 1993 to 2004, Mr. Potts worked at the Nature Conservancy where he held several positions including State Director of Texas and Vice President for the South Central Division, managing the conservation work in Mexico, Texas, Oklahoma, Arkansas and Louisiana. Mr. Potts previously practiced law with the firm of Baker and Botts in Houston, where he focused on international and corporate issues. He earned a Juris Doctorate degree from Columbia University in 1984 and a B.A. degree from Baylor University in 1980.